Submitting Resumes Electronically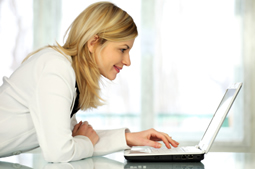 Each job site or posting provides instructions on how to submit your resume; however, there are a few general guidelines to consider.
Submission: Most job boards allow you to paste your ASCII (plain text) resume into an online form. Some major job boards such as Monster will give you the option of uploading a Microsoft Word document. Each individual employer will have their own procedures for submission; this may include e-mail, company Website, etc. The file format is important since different operating systems (e.g., Windows, Mac OS, UNIX, etc.) encode and decode attachments differently and sometimes files may not display correctly or open at all; therefore, when submitting via e-mail, we recommend turning off HTML or Rich formatting to ensure your ASCII text is not converted as various systems and e-mail clients handle and display non-ASCII text differently; then paste the ASCII version of your resume in the body of the e-mail. Additionally, by attaching the Presentation version (Word document) as well, employers who receive attachments will have the option to view your resume in a more visually appealing format.
Cover Letters: When submitting your resume via e-mail — unless instructed otherwise — precede the text of your ASCII resume with a brief cover letter. When e-mailing a resume, paste the cover letter in the body of the e-mail message area above the resume text.
Confidentiality: Many major job boards allow you to block access to specific companies. If confidentiality is a concern, or to help minimize exposure on job boards that don't block access, you might substitute the name of your present employer or other identifying factors with a generic descriptor (e.g., "Major Peripherals Manufacturer"). If you are very concerned about confidentiality, it would be best to skip sites that don't provide control over who has access to your resume. Also, if you are uneasy about publicly displaying your home address, you can remove the address from your resume and use only your e-mail address and telephone number. Another option is to rent a mailbox during your job search.