Improving Resume Response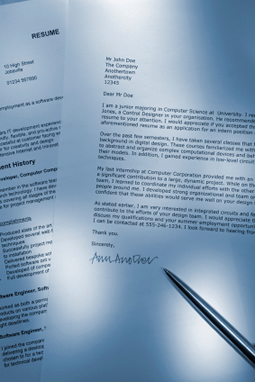 In today's highly competitive environment, your resume will be one of many. Thus, it is essential to develop a clear plan and adapt to the unique circumstances of each application. Following are a few strategies to consider:
Target your resume and cover letter

Strategize when developing your resume and cover letter; hone the content to reflect the requirements of the specific position while emphasizing your relevant skills and strengths. Developing a summary of qualifications that clearly targets your goals and the position is often advantageous. In fact, it is quite common to develop and utilize more than one resume—each targeting a specific type of position or industry.
(Note: Since many companies today use automated applicant tracking systems, your resume might be stored in a database where two different versions of your resume could be compared, side-by-side. If you pursue different positions at one company and your resumes are targeted significantly different and compared, you could then be perceived as unsure of your goals.)

Focus on accomplishments

While many candidates may have the skills required for a position, relevant accomplishments will ensure you stand out! Some job seekers are more aware of their accomplishments than others. In general, accomplishments are contributions you have made or the results you have obtained on the job; it is helpful to quantify results whenever possible. It may be helpful to ask yourself what you contributed above and beyond your job description. Our clients have found our skills questionnaire (SkillNet™) essential as it draws out vital areas of one's background. When writing your own resume, it is important to analyze all of your relevant skills, strengths, and accomplishments prior to beginning the writing process.

Include relevant keywords and phrases

Keywords and phrases are essential today for computer and human screening. Analyze job descriptions and your industry prior to developing your keywords and phrases, and appropriately include these throughout your documents.

Avoid or mitigate potential screen-out factors

Screen-out factors are elements in a resume that cause a candidate not to be selected. These can vary greatly depending on one's unique background and career goals. While many job seekers have screen-out factors, typically these can be substantially minimized or eliminated in your resume to avoid adversely affecting your candidacy. For more, visit 5 Common Resume Screen-out Factors.

Eliminate irrelevant information

Do not include interests or hobbies unless they relate to the industry or position. Don't include personal information such as date of birth, marital status, etc., unless you are targeting positions outside of the U.S. (If you are pursuing positions outside of the U.S., research the requirements specific to each country.)

Carefully check for typographical errors

Obvious errors will immediately raise concerns about your quality of work and attention to detail. To identify and remove errors, you can use a spell-check feature to locate misspellings only; still, a typographical error can be missed if correctly spelled (e.g., "mange" instead of "manage"). In general, the grammar-check feature should be avoided since it can often indicate "errors" that are correct and even suggest changes that will result in an error. Ultimately, it is best to carefully proofread your documents as well as have several others review them before submitting to an employer.

Know the posting or submission requirements

When posting your resume on a job board such as Monster, you will have specific guidelines on how to post. When applying to an opening, each company will have its own procedures. Some companies require candidates to complete an online application, many require an MS Word document, others will only accept applications via plain text email, and larger companies often use an automated applicant tracking system. To be sure you are fully prepared, it is best to have the same resume and cover letter in a variety of distribution formats.