What to Include in a Cover Letter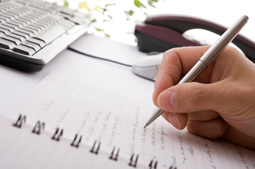 The cover letter serves as the first introduction to an employer, and it is an opportunity to convey one's viability as a strong candidate as well as one's ability to communicate in a polished, professional manner. It notes the specific position targeted while showcasing relevant qualifications the job seeker has to offer. In addition, it allows a job seeker to further explain any unusual circumstances in his or her background (e.g., gaps in employment, a return to the workforce, or change in career focus), demonstrate professionalism, and attract an interview.
With this in mind, it is best to ensure the cover letter aligns with common expectations by limiting it to one page and addressing a specific individual whenever possible. Include the company name and the recipient's name and title. Even when applying to a blind ad or box number one can use the ad information to personalize a cover letter.
A well-written, employer-centric cover letter will typically consist of three main parts: the introduction, the body, and the closing (which ends with a compelling action or request).
The introduction: Whenever possible, indicate how you came to apply to the company, such as...
responding to an advertised opening
having identified the company through research (do not use this if you didn't do the research as it may be obvious to the employer)
reading about the company or its executives in a publication
receiving a referral from John Jones at XYZ company
The body: It is important to highlight your qualifications and strengths as they relate to the requirements of the position. Amplify or augment information contained in your resume (rather than merely repeating it) and include a few strengths or personal qualities.
The closing: If the position was unadvertised and the resume is unsolicited, indicate that you will follow up in a few days. If you are responding to an advertised position, indicate you are looking forward to the opportunity to discuss how you can contribute to the success of the organization.
It is important to balance the tone of your cover letter. You want to be professional yet cautiously assertive. While a resume does not conform to standard writing styles (e.g., using personal pronouns, articles, and complete sentences), a cover letter does! Lastly, remember to focus on the employer's needs rather than your own (e.g., indicate what skills you will bring to the position to get the job done, rather than what you expect the employer to do for you).